For those that know me, you know I have my hands in a lot of projects. I have my travel agent business (thanks for visiting this site!) that I absolutely love. Sending friends new and old and family members on amazing adventures bring a lot of joy to my life. I have always loved exploring the world and now I help others discover new places. I am also an artist. I design fabric and surface patterns that are on hundreds of products over at stasiajahadi.com and finally, I'm an avid athlete in the making over at fit4abetterlife.com. These three passions keep me very busy and so does trying to keep up with all of my audiences.
You might be saying to yourself – how does one keep up with 3 blogs, 3 Instagrams, and 2 professional FB pages? One word – Coschedule.
Coschedule came on my radar about a year ago when I started Stasia Jahadi Design. I was managing two sites and social media for both. I looked at Coschedule but at the time you had to purchase it for each independent site. It wasn't the best fit for me at the time because I was looking for something that gave me a view of all my sites at once. I'm a solopreneur and don't have a team (yet) and wanted something to keep me on track. I looked and looked but never found anything that came close to the capability. FF to this year and I started working for Journeys Travel Inc. and I came back to see what was new at Coschedule and was so happy to discover they now allow one account to manage multiple sites. YAY!
My old ways
I've tried it all – stickies on calendars, google calendars, my bullet journal you name it I tried it. My former career as a process engineer and I was also an agile ScrumMaster so I understand process and project management extremely well but tools that enable processes can make something as labor-intensive as managing three sites and multi-social media accounts easy or incredibly hard. I knew there were tools that did pieces of these things and tried to incorporate some of them into my processes but I seemed to always end up with marketing on the back burner, sites out of date and social media on the fly.
There are so many great places to travel to!
One of the things I quickly learned as I entered the travel industry is how much great information is out there to share with customers. There are so many places to go, resorts to visits, theme parks to conquer, cities to experience that it can be overwhelming. I started randomly posting things that I saw and thought were interesting but quickly realized I wasn't sharing enough and I wasn't always sharing valued content for my customers. The content from each of the resorts I work with floods my inbox every day. Great deals that I'd love to share with everyone – but how can I do this much more efficiently and deliberately and get my clients the content they are most interested in?
Coschedule is an organizers dream. The thing that immediately helped me was the CoSchedule Marketing Calendar and Content Management capability. This tool allows me to plan my blog posts, content, and campaigns. I can easily drag and drop items and if I am collaborating on a post share tasks and items with teammates. There are also sub-calendar views that will allow me to see all my social media posts, blog posts, etc. It's very easy to use and keeps me on task. I'm a very visual person and I love how I can quickly see what I have planned, how much of that project is complete and any deliverables I need to create. This allows me to turn my ideas into quality content, organize my blog and as it integrates with other marketing tools I use – publish easily. I love seeing everything on One Calendar!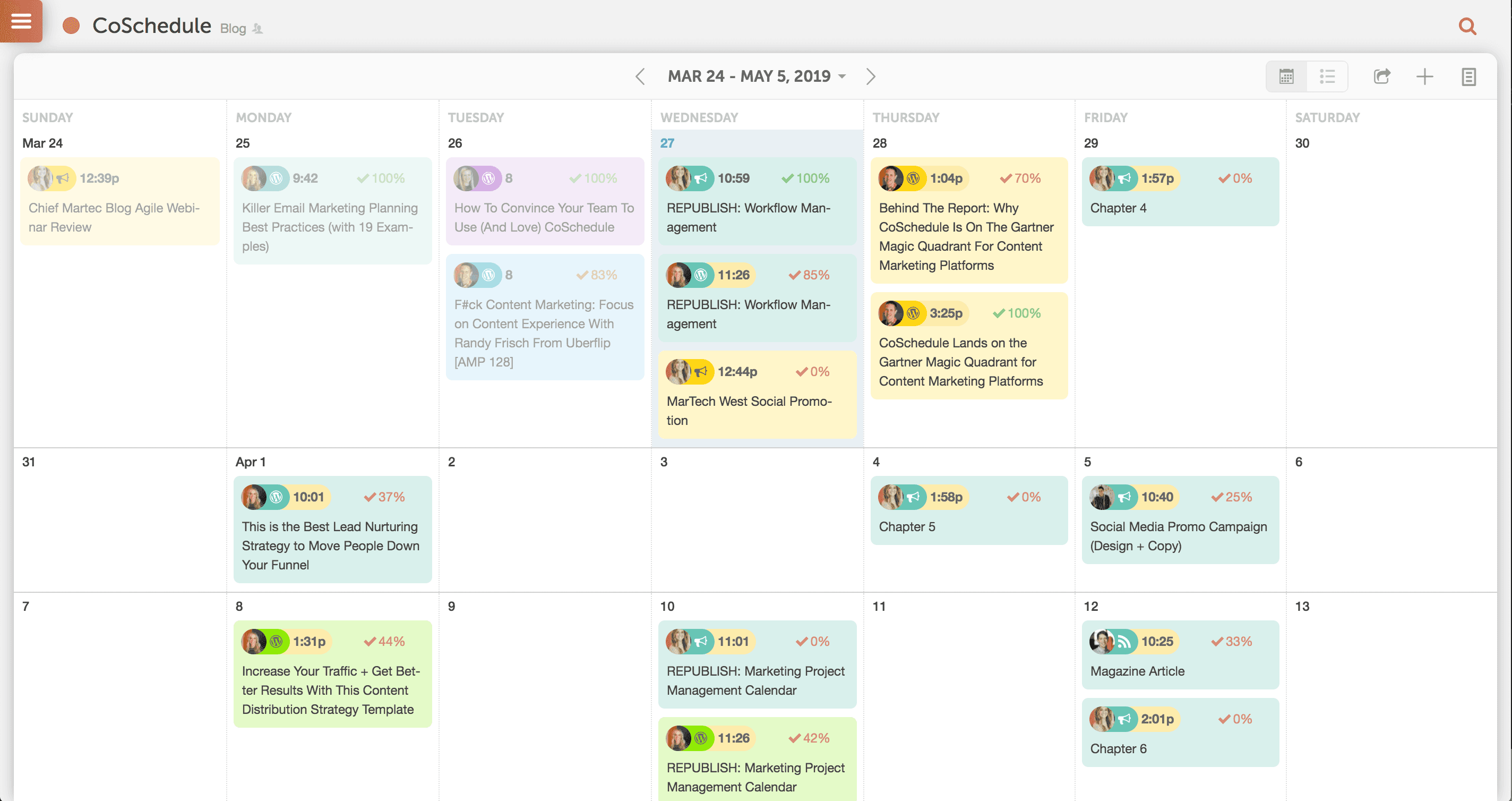 Social Organizer
The social organizer allows me to see my entire social strategy in one place. I can build out social campaigns, leverage best time scheduling and reduce rework. Requeue also helps me here by making sure that I'm filling my social media with my best messages by filling in the gaps in my schedule with content that was highly valued by my clients. Messages send automatically at the best times for my audience so my customers won't miss out on that perfect Italy itinerary that has all the best vineyards. I can also leverage the social inbox to engage with customers commenting on posts – all in one place for all my social media accounts. It's quick and easy to be responsive to one view.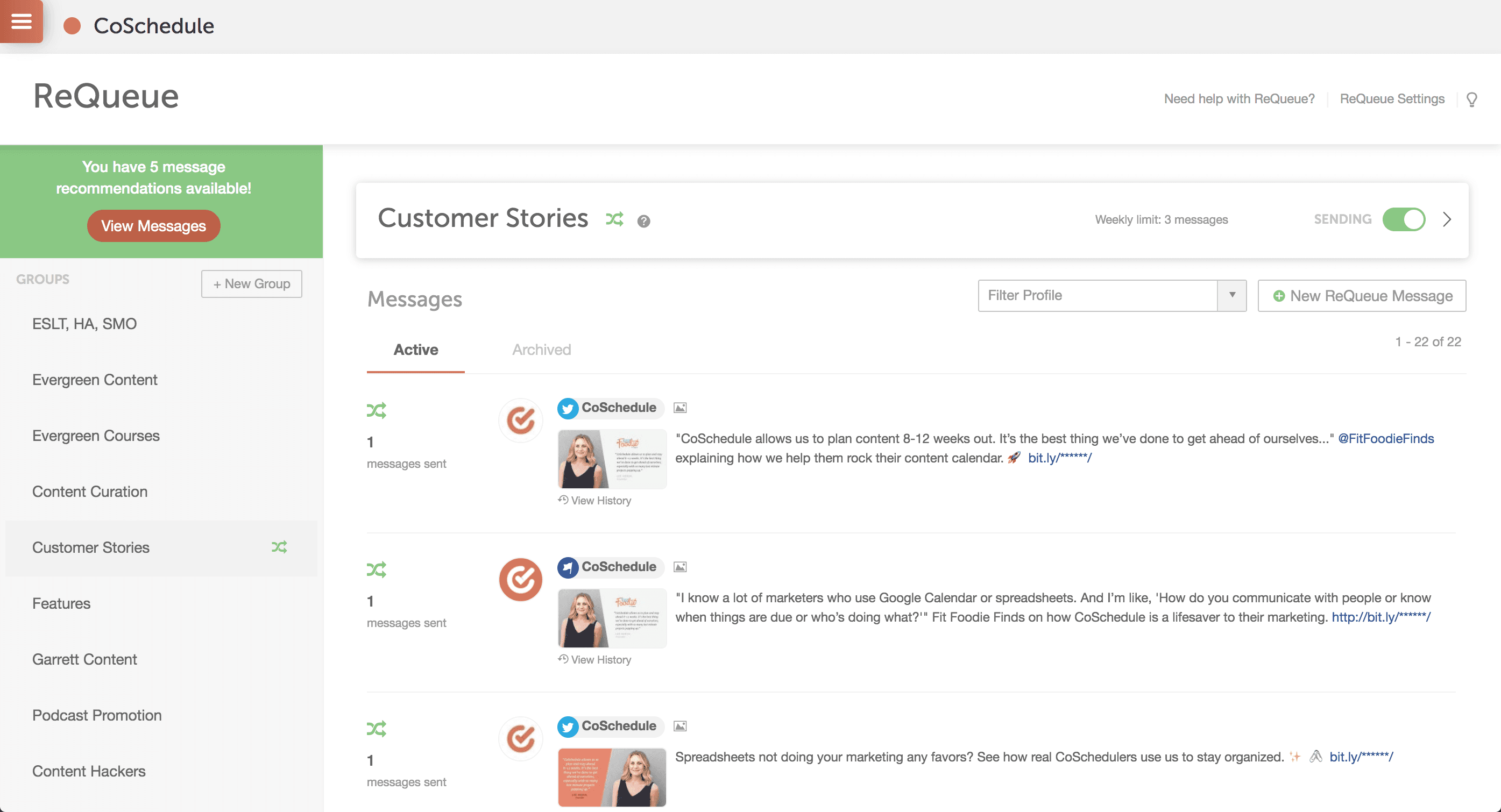 The project management dashboard is in a Kanban-style which I totally can appreciate as a former process engineer.  This helps me break down my projects into my custom workflow and see deliverables, visually appreciate status, due dates and % complete and keep things moving through my process.  I can even create automatic workflows with task templates for reoccurring projects.  This really helps me keep things moving and creates consistency in my work that was much more manual in the past.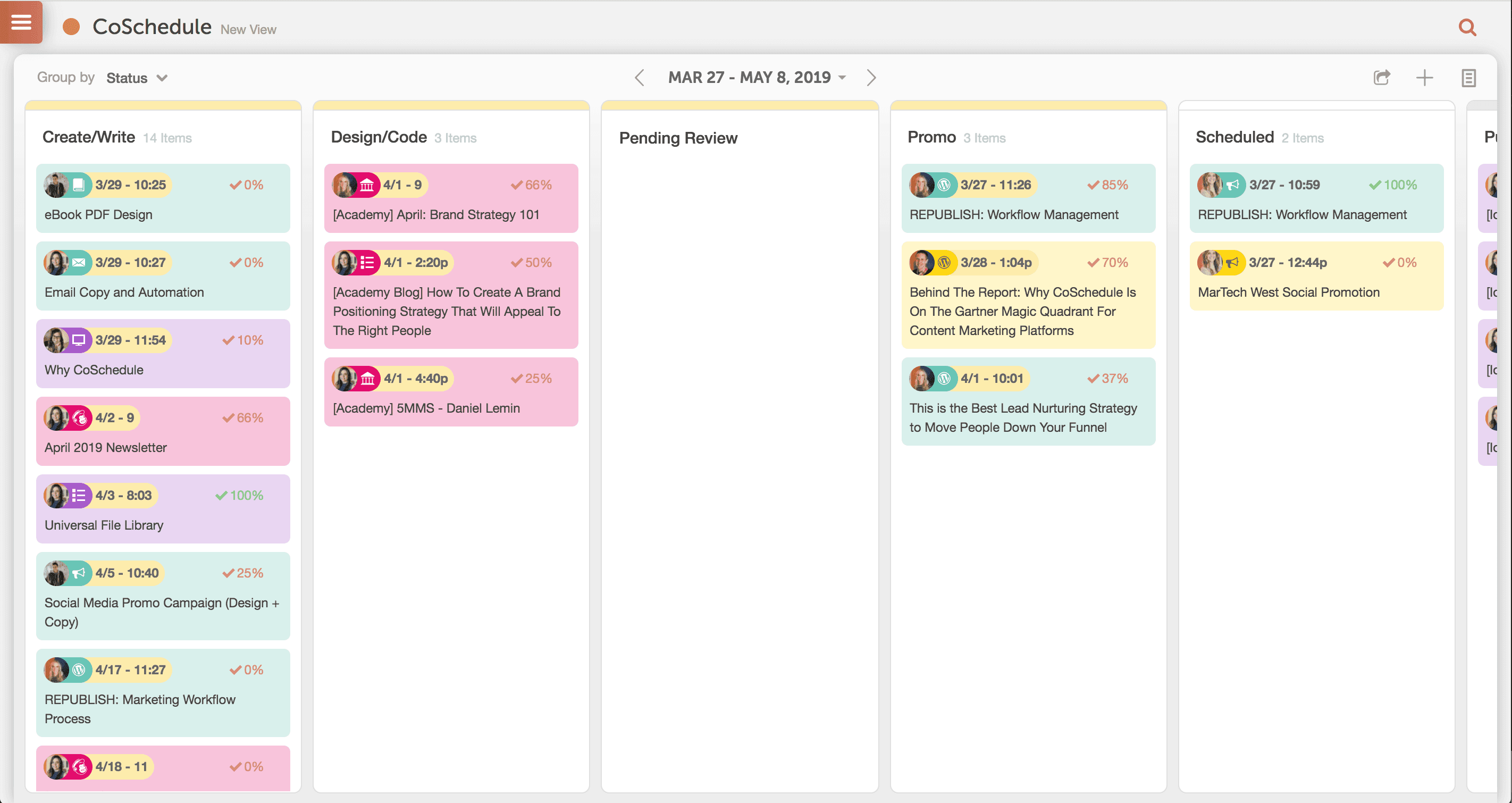 Campaigns
The Marketing campaign capabilities let me plan out a series of related posts, and content that aligns to a big opening for example. Say a certain theme park was opening a brand new area in the fall of 2019 with events leading up to the final opening day. I could create custom content that would help my customers not miss out on any of the fun.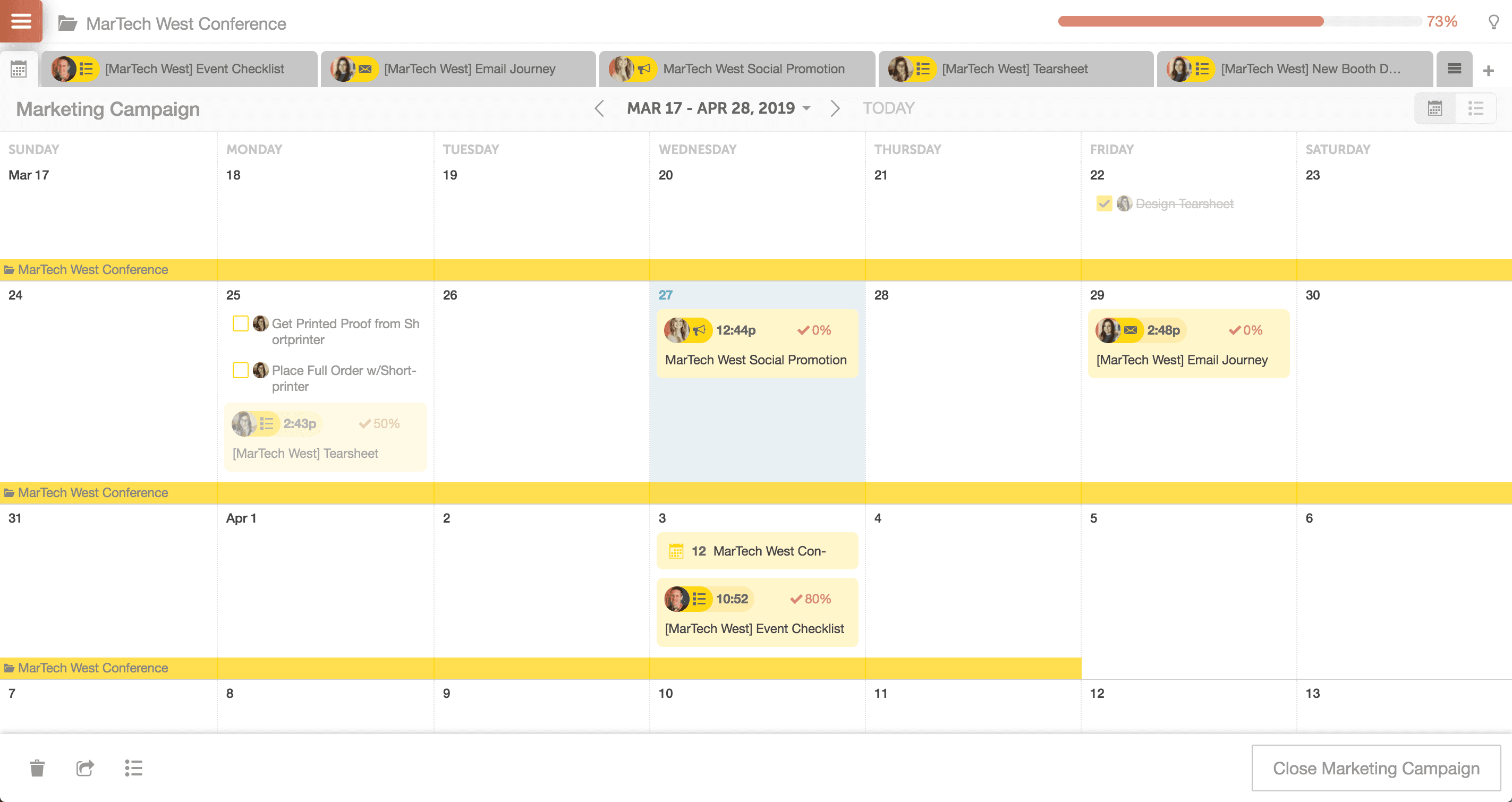 Analytics
Finally, the analytics and reporting really keep my business focused on the right things, helps me learn what is important to my clients and how I can better bring them valued content. As a travel advisor – I not only book my clients on fabulous adventures, romantic getaways, and family vacations but I can help create experiences and memories that last a lifetime and sometimes that all begins with a post. It's good to know that I'm reaching my clients and that they are valuing my content and experiencing travel.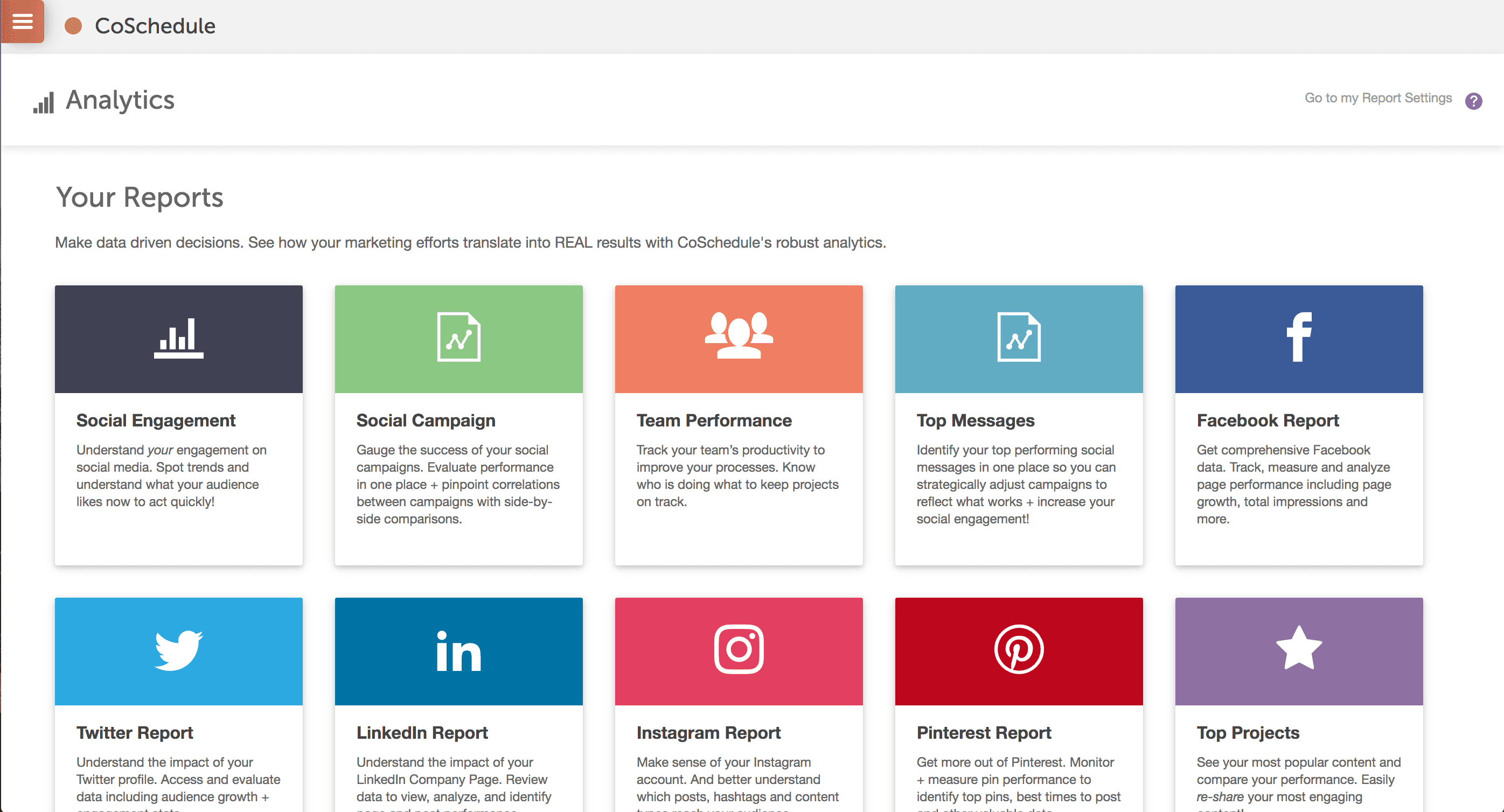 The final thing I'll say about Coschedule is that they have great customer service and support. I've reached out to them a few times trying to learn about their product and they have been great. They have a lot of free marketing content online so you can continue to learn and grow your business.
So if you want to get content to your customers based on what interests them the most, at the time they are most likely to consume it – Try Coschedule free for a 21-day trial. That's how I got started. Here is my affiliate link.
Travel Often!
Anastasia